Exhibition centre map and facilities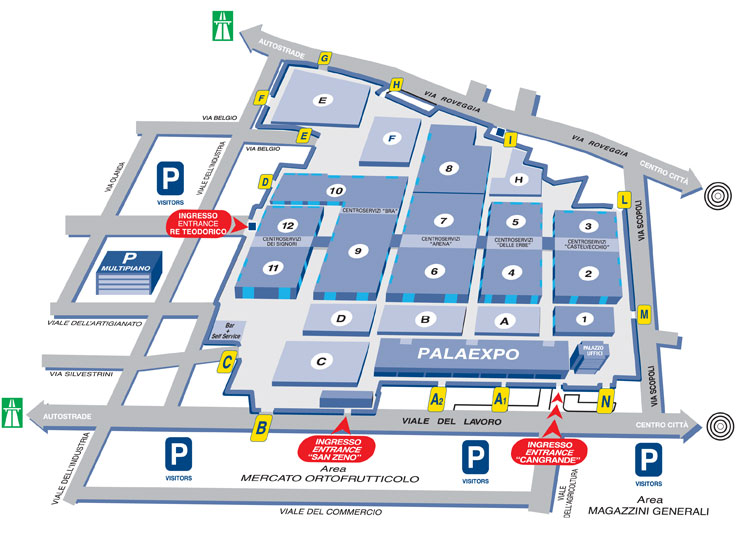 Catering services
Veronafiere is able to provide a qualified and professional service for the organisers of events, including welcome coffee, buffet and seated lunches, cocktails and gala dinners, with customised menus, also offering international cuisine. In addition to the catering service, in the Congress Centre and the pavilions there are several different refreshment points: à la carte and self-service restaurants, coffee shops and snack points.
Stay in touch with the world at all times, thanks to the centre's Wi-Fi coverage
Veronafiere exhibition centre has a WiFi 802.11 a/g/n, 2.4GHz and 5Ghz network with state of the art CISCO equipment and controller. All the pavilions and service centres are covered by a WiFi network available for use by exhibiters and visitors. Free WiFI area have been created in the service centres, where it is possible to connect to the net free of charge. This service is only available in the areas indicated and is provided on a best effort basis.
Transport facilities
In the area in front of the Cangrande entrance and in other clearly indicated points during the events, there is a shuttle service connecting Veronafiere to the railway station and to the airport.
Inside the exhibition centre there is a car rental service, taxi rank, airport check-in desk, the offices of the man Italian and international airlines and a railway ticket and reservations office.