520 companies and buyers from 29 countries at the 115th Fieragricola
Ten show halls, 520 exhibitors from Italy and 11 international countries, buyers arriving from 29 countries and a calendar of more than 120 events including conferences, workshops and dynamic tests.
These are the features of Fieragricola  (2-5 March 2022), Veronafiere's historic international show which this year celebrates 115 editions.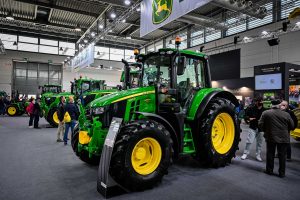 Founded in 1898 in Verona, Fieragricola has always accompanied the evolution of agriculture by promoting useful innovations for the sector and encouraging dialogue between exponents in the primary field and institutions.
The format of the event envisages a subdivision into trade sectors covering agricultural mechanization, animal farming, specialist crops with high added value such as vineyards and orchards, professional services for the primary sector, energy from renewable agricultural sources as well as an outdoor dynamic area for demos and tests of agricultural vehicles.
In addition to Italy, exhibitors are attending from Austria, Denmark, France, Germany, Lebanon, the Netherlands, Slovenia, Spain, Switzerland, Turkey and the United States.
Internationality is also reflected by the attendance of top international buyers, with more than 100 selected operators from 29 countries (Algeria, Colombia, Croatia, Czech Republic, Denmark, Guatemala, Iraq, Libya, Mozambique, Peru, Russia, Slovenia, Spain, Tunisia, Turkey, Azerbaijan, Brazil, Egypt, Ethiopia, Georgia, Ghana, Kosovo, Albania, Norway, Poland, Romania, Serbia, Tunisia, Uzbekistan), thanks to the incoming initiatives implemented by Veronafiere and ICE Trade Agency, with a loan funded by the Ministry of Foreign Affairs (Maeci) and the collaboration of Federunacoma.
The 2022 Show will stage several focus meetings: from the future of agriculture to NRP measures for agricultural supply chains, to sustainable management of water and environmental resources and precision animal farming. Considerable attention will also be given to the latest frontiers of digital farming and agro-energy.
"For some time now, agricultural enterprises have evolved from a multi-functional point of view through close attention to increasingly specialized production processes," said Maurizio Danese, President of Veronafiere. "Accordingly,  Fieragricola must respond to the needs of the professional figures animating the sector. And it is precisely together with them we want to be in forefront of a green revolution in the agricultural sector, which cannot be achieved without technological innovation and a change of mentality."
Today, more than ever before, the agricultural sector is called upon to identify the most efficient solutions for increasing production, food safety and quality, as well as combating the effects of climate change and safeguarding the landscape and biodiversity.
Fieragricola represents a supply chain that in Italy boasts more than 400,000 agricultural companies (83% with sole proprietors), more than 910,000 employees and a total value of production across agriculture, forestry and fishing close to 60 billion euros. These results make Italy the leading European country in terms of added value produced by the primary sector (32.9 billion euros, approximately over 2% of GDP).