Maurizio Danese elected as the new Chairman of AEFI
Maurizio Danese is the new president of AEFI, the Italian Association of Exhibition Centres and Trade Fairs which brings together 40 trade fair operators in Italy organising more than 1,000 shows and events on average every year. The appointment was voted today during the AEFI Shareholders' Meeting held at BolognaFiere.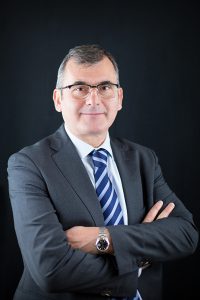 An entrepreneur in the food service sector, vice-president of AEFI since 2018 and President of Veronafiere Spa since 2015, Maurizio Danese (57 years old) takes over from Giovanni Laezza with a mandate until 2022.
AEFI has represented the Italian trade fair system since 1983 and promotes and supports its development. Trade fairs are a strategic sector for Italy. It generates turnover of 60 billion euros every year by involving 200,000 companies and more than 20 million professional operators from Italy and abroad.
"May I thank all associates for their trust in me and my predecessors for all their work in this serious and unexpectedly critical period," said Maurizio Danese. The Covid-19 emergency has also hit the trade fair sector very hard: almost 90% of the exhibition events scheduled in 2020 have been postponed or cancelled, causing damage and a fall in overall turnover estimated to be significantly higher than 60%.  Nor should we forget, moreover, the allied business generated through associated supply chains, such as stand fitters, where downturns of 80% are estimated, as well as hospitality facilities. Today, more than ever before, a new programmatic and strategic paradigm is vital and must focus on the promotion of a major alliance between trade fair operators at the heart of AEFI's efforts as well as accelerating system mergers. Only possible in this way will it be possible to measure up to international competitors while maintaining the local area nature and specific character of historical events."
Trade fairs are well established as one of the most powerful and effective industrial policy tools available and help generate, directly or indirectly, almost 50% of Italian exports. For more 75% of Italian SMEs, they are the only international business visibility platform and help companies attending events achieve a return on investment of up to ten times.
"So far, the Government has not listened to us; nevertheless, it simply must realise that trade fair events are not the same as concerts or festivals, as we have unfortunately read in some Prime Ministerial Decrees and the Restart Decree," said Danese. AEFI firmly highlights the industrial nature of our business. This is why we ask institutions to take effective and incisive action going far beyond assessments concerning the creation of a generic support fund – no mention of which is currently made in government measures – or finance for attendance by companies at trade fairs abroad, organised by our direct competitors."
"Without a strategy and effective support on a national scale," the new president of AEFI summed up, "the risk is that our trade fair system will lose ground in Europe and on outlet markets for Made in Italy products. We are absolutely convinced that we can ensure a major boost for the recovery once the emergency is over. With this aim, Italian exhibition centres exploited the lockdown by investing their own resources in the creation of new, increasingly safe and tailor made formats that are capable of integrating physical experience with the digital world. We have always kept our engines running over the last few months: we now hope that the Government will indicate a firm date and the availability financial aid tailored to the restart even in our sector."