Sol d'Oro 2023: Veronafiere is the World home for quality olive oil
A week dedicated to extra virgin olive oil. 20-26 February: Veronafiere was home to the 21st Sol d'Oro International Competition, the most selective contest of its kind in the world dedicated to extra virgin olive oil. A total of 409 registered samples arrived from the finest mills in Albania, Chile, Croatia, Greece, Italy, Peru, Portugal and Spain.
The 2023 edition saw Italian producers excel above all others, taking 20 of the 21 medals envisaged in the seven competition categories: Light fruity, Medium fruity, Intense fruity, PDO-PGI, Organic, single Variety and Absolute Beginners. This success story was fairly spread across the main Italian olive growing regions: five in Apulia, three in Latium, two in Abruzzo, Tuscany and Umbria, one in Sardinia, Sicily, Veneto, Campania, Sardinia and Trentino. Croatia was the only international producer to take an award.
Discover the list of award-winning extra virgin olive oils.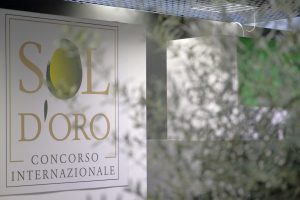 Set in motion with the aim of promoting the finest extra virgin olive oils, Sol d'Oro combines blind tasting with the assessments of an international jury under panel leader Marino Giorgetti. The event has spread its wings abroad since its inception, so much so that it was split into Northern and Southern Hemisphere editions.
The 21st edition of the competition was the first organised in partnership with AIPO, the inter-regional association of olive producers representing the Italian supply chain. This is a new partnership that aims to promote the horeca channel, delicatessen shops and quality corners in large-scale retail outlets on domestic and international markets. To all intents and purposes, all this turns Verona into the world landmark for olive oil – the cornerstone of the Mediterranean diet nominated by UNESCO as an intangible world heritage.
Maurizio Danese, Managing Director of Veronafiere, said: "Sol d'Oro, this year posted a new record for sample entries and countries taking part. This positions the event firmly at the top of the international ranking as one of the most well-attended competitions. We are delighted with the start of collaboration with AIPO. Its analysis laboratory recognized by the Ministry of Agriculture, Food Sovereignty and Forestry ensured a further upgrade in the value of our competition. In around a month's time, buyers attending Sol&Agrifood will be able to taste the extra virgin olive oils that earned medals and special mentions during dedicated tasting sessions. The contest saw Italy clearly stake out its role as leader in terms of production quality and variety."