Trade Fairs: MAECI is set to issue guidelines for accessing the 363 million euro recovery fund
"The Ministry of Foreign Affairs Financial Assistance Committee met yesterday to define the guidelines for accessing funds of 363 million euros set aside to support the recovery of the national exhibition system in the wake of the Covid-19 emergency. An announcement will be made in coming days about how necessary aid supporting the resumption of trades fairs can be obtained. These funds will undoubtedly be topped up by the Government, through the next Simest re-financing plan as well as by drawing on the resources of the EU Recovery Fund."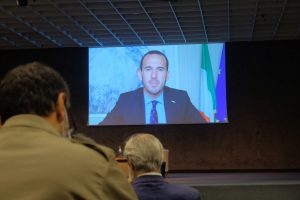 Manlio Di Stefano, Under-secretary of State at the Ministry of Foreign Affairs and International Cooperation, spoke this morning during Veronafiere Restart, the appointment marking the physical and digital restart of Verona Exhibition Centre activities.
"This initiative marks the resumption of the exhibition system in the Veneto Region," said the Under-secretary, "and through the ICE Foreign Trade Commission we have decided to focus precisely on trade fairs held this autumn to relaunch Italian exports. Trade fairs today must find an appropriate path forwards in response to the unusual times we are experiencing while simultaneously also looking to the future. This is why I am delighted that Veronafiere has launched this project combining physical and digital events through investments in technological development to grasp new opportunities."
Veronafiere Restart, in fact, coincided with the inauguration of Veronafiere's first 100% on-line trade fair: Marmomac ReStart Digital Edition, the new networking and training platform for the global natural stone, design and processing technology community. More than 3000 operators and over 200 companies from 22 countries have registered on the portal, that will be home until 2 October to virtual b2b meetings and a programme of 70 digital initiatives, including live streaming conferences, presentations and educational sessions.
"This on-line repositioning is only temporary as we await the 'new normal'," said Maurizio Danese, President of Veronafiere, on opening the conference today. The physical event will continue as ever to be a fundamental meeting venue for business, where digital content will provide added value to our exhibition offering. It is precisely for this reason that we did not want to renounce an occasion for attended meetings and analysis in order to emphasise the essential importance of relationships and comparisons between people."
The event was also attended by Giovanni Mantovani, CEO of Veronafiere, Federico Sboarina, Mayor of Verona, and architect and urban planner, Stefano Boeri who, for the occasion, gave a lectio magistralis titled "Nature and architecture: new visions for urban spaces".