Veronafiere: safe restart in September
Veronafiere: trade fairs, congresses and events will resume safely in September, responding to the needs of companies and markets.
The restart is envisaged in the latest safety protocols validated by the Technical-Scientific Committee (CTS) as defined in the Ministerial Decree DPCM dated 7 August 2020.
Veronafiere – together with Aefi, the Italian trade fair association, and other players in the sector in Italy – has defined a regulatory protocol (in compliance with guidelines for resuming economic and production activities issued by the Conference of Regions and Self-Governing Provinces) designed to provide organisational and operational indications to increase the effectiveness of the precautionary containment measures adopted to combat the COVID-19 epidemic during shows and events.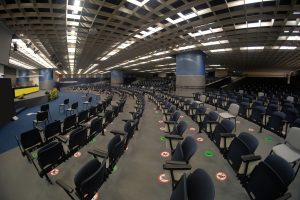 The use of PPE, social distancing, medical facilities, regular cleaning and sanitation of venues (redesigned and optimised for the occasion in accordance with regulations), appropriate information signs, a well-organised and efficient emergency plan, training for personnel in contact with the public and health control at entrances are just some of the initiatives designed to ensure total safety of the exhibition centre and its premises.
These essential rules confirm the safety levels that Veronafiere has always ensured during all stages of its exhibitions and events (set-up – show days – dismantling).
In addition to these measures, Veronafiere has decided to ensure maximum hygiene and respect for distancing by sanitising all facilities on the eve of events, installing thermo-scanners at entrance turnstiles and crowd monitoring with cameras. Lastly, info and services points will be set up for all events with an isolation room specifically for any persons presenting symptoms of COVID-19.
Access and contacts during trade fairs are also envisaged in "contactless" mode thanks to event apps which allow entrance to shows using a QRcode, swapping virtual business cards, the geo-located map and reservations at the restaurants inside the exhibition centre. Events scheduled in the second half of the year will consequently and primarily focus on health safety for employees, exhibitors and visitors and growing integration between essential physical approaches and digital models.
VERONAFIERE PROGRAM – SECOND HALF 2020    
| | | |
| --- | --- | --- |
| EVENTS IN ITALY | DATES | TYPE |
| Automotive Dealer Day – Digital edition | 16-17 September | Digital edition |
| Sol d'Oro Southern Hemisphere | 17-20 September | Physical edition |
| Marmomac Restart – Digital Event | 30 September – 2 October | Digital edition |
| Oil&NonOil | 21-23 October | Physical edition |
| Innovabiomed | 26-27 October | Physical edition |
| Fieracavalli | 5-8 and 13-15 November | Physical and digital edition |
| Festival of the Future | 19-21 November | Physical edition |
| Operawine | 21 November | Physical and digital edition |
| wine2wine Exhibition: | 22-24 November | Physical and digital edition |
| wine2wine Forum | 23-24 November | Physical and digital edition |
| B/Open | 23-24 November | Physical and digital edition |
| Job & Orienta – Digital edition | 25-27 November | Digital edition |
| Veronafil | 27-29 November | Physical edition |
| Verona Mineral Show Geo Shop: | 27-29 November | Physical edition |
| ArtVerona: | 11-13 December | Physical edition |
| | | |
| --- | --- | --- |
| EVENTS ABROAD | DATES | TYPE |
| Vinitaly China Road Show – Shanghai, Xiamen, Chengdu | 14-18 September | Physical edition |
| Vinitaly International Academy – Detroit, USA | 19-23 September | Digital edition |
| Living Italy@Design Beijing | 23-26 September | Physical edition |
| Vinitaly International Russia – Moscow | 26 October | Digital edition |
| Vinitaly International Russia – St. Petersburg | 28 October | Digital edition |
| Vinitaly International Hong Kong | 5-7 November | Physical edition |
| Wine to Asia: | 9-11 November | Physical edition |
| Living Italy@Design Shanghai | 26-29 November | Physical edition |
| Bellavita Expo Mexico City | 2-4 December | Physical edition |