ArtVerona: the world of modern and contemporary art returns to a trade fair with 143 galleries
ArtVerona, the modern and contemporary art exhibition event, sets off again with attendance in person 15-17 October at Veronafiere, following the 100% digital version in 2020.
143 galleries are taking part this year, under the artistic direction of Stefano Raimondi and the collaboration of ANGAMC.
This 16th edition welcomes important new participants and significant confirmations, from the modern sector to emerging realities waiting to be discovered, with numerous initiatives involving visitors both in the exhibition centre and in the city.
The event boasts seven sections, with many new features: in addition to modern and contemporary art galleries, a great deal of space is also given to emerging and experimental realities, art residences, non-profit spaces and art magazines.
The new Evolution section focuses on artists capable of developing their research through artificial intelligence, social networks, robotics, video games, 3D animations, coding, big data and nanotechnology.
ArtVerona also strengthens its commitment to the Italian System through three new awards, which bring the total number promoted by the art fair to 12.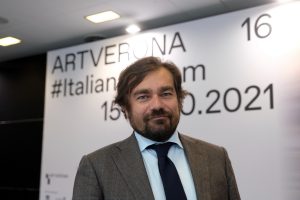 "ArtVerona, across 16 editions, has grown and evolved in line with the direction marked out by the latest trends in the art world," said Matteo Gelmetti, Vice President of Veronafiere. "Our approach from the outset of the event has been to take an unprecedented path. We were keen to focus on the Italian art system through galleries, starting from the modern sector and paying particular attention to new generations and more experimental realities. This is how we built our own precise identity within the national art fair panorama."
The art fair proposes a programme of appointments involving visitors, such as the podcast project with live radio analysis together with artists, gallery owners, curators and collectors.
Lastly, in collaboration with the main local public and private institutions, ArtVerona is organizing Art & the City, a calendar of cultural initiatives in Verona itself dedicated to collecting, performance and video art.