Asian restart for Veronafiere Group with Vinitaly and ICE
Veronafiere returns to Asia for the third edition of the Vinitaly China Roadshow. The event, organised by Veronafiere S.p.A. together with Pacco Communication Group, places all the experience of Vinitaly at the service of Italian exports alongside initiatives promoted by the ICE Italian Trade Commission through "I Love ITAlian Wines" and the entire Ministry of Foreign Affairs network.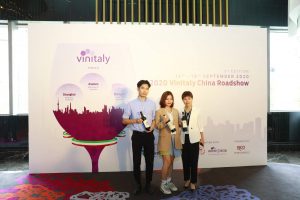 Three cities are involved: Shanghai (14 September), Xiamen (16 September) and Chengdu (18 September). Every stage involves a wide-ranging network of business relationships and collaborations developed with partners including Design Shanghai (Clarion Events Group), Xiamen Valued Show, Chengdu Bucciano, Italian Chamber of Commerce in China, Grapea, Florentia Village, Campari Group and De Longhi Caffè.
Sixty-five exhibitors presenting 700 Italian wine labels will take part in the 2020 edition. The calendar includes physical and digital b2b meetings for importers and the horeca channel; initiatives will focus on owners of art galleries, wine bars, fine dining restaurants and architecture studios; walk-around tastings and master classes will also be attended by experts trained through the Vinitaly International Academy.
The road show will also promote the activities of the Arena di Verona Foundation.
Just as last year, a mini-app was created on WeChat to support all promotional activities which, together with targeted collaborations involving the main social media and influencers in China, helps create profiled involvement of people attending the three initiatives.
"It is an important step forwards and a significant occasion for Veronafiere Group operations in a year hit by the worldwide pandemic. We will set off again from Asia, with a system event in China that envisages physical attendance to support wine – one of the flagship Made in Italy products which, like others, is suffering from the effects of the international lockdown. The Vinitaly road show will also ensure leverage to promote Wine To Asia, the international wine exhibition that Veronafiere, through its joint venture company Shenzhen Baina International Ltd., is organising 9-11 November in Shenzhen", said Giovanni Mantovani, CEO of Veronafiere.