EOS: the outdoor world makes its trade fair debut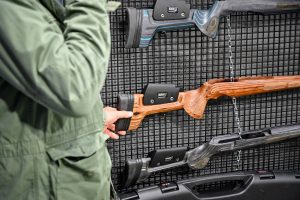 Hunting, sports shooting, fishing and boating come together at Veronafiere for the first time. 30 April-2 May sees the debut for EOS, the European exhibition focusing on outdoor passions organized by Consorzio Armaioli Italiani and Pintails S.r.l.
Veronafiere welcomes more than 520 exhibiting companies from Italy and abroad with all the innovations on the market, as well as product demos and trials. Four show halls ensure almost 60,000 square meters of exhibition space. Numerous conferences, with 50 scheduled appointments, including seminars and courses held by experts.
EOS will also provide space for excellence in Italian sport with special guests, including Olympic shooting champions Diana Bacosi, Alessandra Perilli and Giovanni Pellielo, and the dynamic sports shooting athletes who will compete in the next World Championships in Thailand.
EOS highlights two sectors that boast a national community of more than 4.4 million people, including competitive and amateur shooting, hunting and sport fishing enthusiasts.
And this community generates impressive turnover: a study by the University of Urbino suggests that production of weapons and ammunition for civil, sporting and hunting purposes in Italy is worth more than 7.2 billion euros, with more than 87,000 employees and exports accounting for 90% of turnover. The Italian nautical industry in 2021 posted production worth just under 6 billion euros, up by 23.8% compared to the previous year.
"Veronafiere is a direct organizer of trade fairs and events, ranking among the sector leaders in Italy and Europe," said Maurizio Danese, President of Veronafiere. Our mission also envisages hosting initiatives, conferences and events promoted by third-party companies, as in the case of EOS. This event will find its full dimension in Verona, where it can grow and achieve international status. We have seen a growing interest in our exhibition centre in recent years: our business plan for development and the restart envisages specific upgrading of our physical and digital infrastructures, some of which has already been implemented."
"EOS is a project shared with companies that responded to the idea immediately and favourably. We already foresee an increase in attendance as of the next edition, as well as opening to a greater extent to Europe and the rest of the world.," said Patrizio Carotta, the organizer of the event.