Everyone in the saddle for the 124th Fieracavalli
The equestrian world – with 2,375 horses embracing 60 breeds – is back in Verona with the 124th Fieracavalli. The oldest exhibition dedicated to horses this year comes forward with 12 show halls totalling 128,000 square metres of exhibition space hosting 695 exhibitors from 25 countries as well as 200 scheduled events, including competitions, performances and conferences. "Closer Together" is the claim of Fieracavalli 2022 as it returns to its traditional format, confirming its status as an unmissable event for enthusiasts and professionals thanks to its capability to involve everyone in the most across-the-board manner: companies, experts, athletes, slow tourism lovers and families. This is because Fieracavalli is the only event capable of enhancing every aspect of the equestrian value chain. This sector contributes almost 3 billion euros to Italy's GDP, with 35,000 direct employees and more than 149,000 breeding centres.
"Veronafiere and Fieracavalli are very well aware of our great responsibility towards the equestrian world because we are its "home", we belong to all its exponents and have represented them for 124 years," said Federico Bricolo, President of Veronafiere. This is the spirit that guided us in designing and implementing an edition through which we aim to make an effective impact for the full recovery of a sector that, in overall terms, contributes more than 3 billion euros in Italy's GDP. As part of this task, just as every year, we will be able to rely on the support of many realities that are equally committed to promoting and growing this sector, such as the Ministry of Agricultural Policies, ICE-Trade Agency, the Veneto Region, the City Council and Province of Verona. FEI and FISE for the sporting part, as well as 35 breeding associations, sponsors and exhibitors attending the Show."
Fieracavalli is one of the largest international showcases for trade business in this sector, with three commercial areas where top brands are exhibited. Veronafiere has worked with ICE-Trade Agency on incoming activities to bring selected buyers from target markets in Germany, United States, United Kingdom, India, Indonesia, Libya, Thailand, Tunisia, Morocco, Estonia and Latvia to the Show.
As Maurizio Danese, Managing Director of Veronafiere, said: "Fieracavalli, in addition to being a landmark event in Veronafiere's portfolio of directly organised shows, also enjoys a unique national and international reputation in this sector. In 2021, despite certain Covid restrictions still being in place, we nevertheless attracted more than 100,000 visitors. This certainly highlighted a lively, active sector that is still growing in terms of enthusiasts and users. The Verona Show thereby confirms its status as a key moment, when our community of horse lovers reconnects to meet colleagues, do business and enjoy the spectacle of natural dynamism that only horses are able to inspire. And in this context, Fieracavalli helps multiply business for companies attending the event, not the least thanks to the value of its brand. This is emphasised by the Nomisma which indicates that Fieracavalli is known by 43% of Italians, with about 3 million people who say they have visited it at least once in their lifetime."
During the four days of Fieracavalli, the entire Exhibition Centre is transformed into a made-to-measure citadel for riders taking part in top-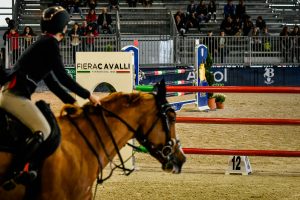 level competitions. Veronafiere continues to invest in sporting aspects associated with horses, well aware of its fundamental role in promoting and developing the entire sector. This is how the Horse Show becomes the ideal context hosting the champions of the world show jumping circuit, arriving once again to compete at Jumping Verona, the only Italian leg of the Longines FEI Show Jumping World Cup™. Yet Fieracavalli is not just entertainment, sport and business: the exhibition is also determined to spread an ethical and respectful approach to the well-being of animals and people alike, not the least through deeper awareness of the elective affinities that bind people and these noble animals, and the implications this special relationship can have the social field. For this reason, Fieracavalli has supported the "Riding the Blue" Initiative since 2019 and its work with horse-assisted therapies for children with autism. This initiative was equally developed by the Verona Hospital Centre that hopes to see horse therapy recognized this year by the National Health Service as a treatment for autism spectrum disorder, thanks to an experimental project supported by a crowd-funding campaign together with FISE and the Ernst Young Foundation.