LETExpo: the green future of logistics
It is a short step from roads to sea and railways. And it's good for the environment. As is well known to the 1,800 companies belonging to ALIS, the Sustainable Intermodal Logistics Association. In 2021 they "subtracted" 134 million tonnes of goods from road haulage in Italy – equal to 5.6 million trucks – by using sea and rail freight systems. This helped save 4.8 million tonnes of carbon dioxide emissions into the atmosphere and 2.2 billion euros in health costs to treat diseases related to air pollution.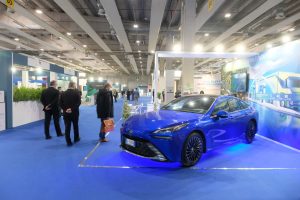 These figures were presented at Veronafiere  on the occasion of the first edition of LetExpo_Logistic Eco Transport, the new national landmark event for sea and rail freight intermodal services, freight haulage, ports, smart mobility, new energy sources, training and related services scheduled 16-19 March 2022.
The event, organized in collaboration with ALIS, has Intesa Sanpaolo as its main partner and brings together 200 Italian and international exhibitors in four show halls, for a total show area of 40,000 square meters.
Iveco, Scania, Ford, Volkswagen, Enel X, Liquigas, SNAM for mobility, ENI, Q8, Wurth, Gi Group, Kogel, Telepass, WithU and Veronamercato are just some of the top companies attending the trade fair.
The conference-exhibition format of the show integrates the B2B section with a programme boasting more than 100 conferences  and technical seminars.
The transport and logistics sector today is facing of one of its greatest challenges – one that will mark its future from an environmental point of view – in light of the objectives indicated in the Green deal and Fit for 55.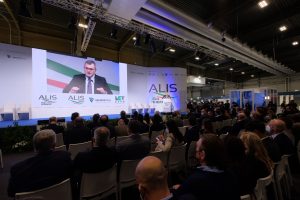 Sustainability is one of the most urgent imperatives that must be implemented according to European Union indications; the aim is to divert 90% of mobility and freight transport to more virtuous and less polluting routes than roads by 2050.
It is also a crucial occasion for defining growth and investment opportunities linked to the 235 billion euros of European funds made available to Italy through NRRP, in addition to 25 billions for infrastructure projects from the CEF Plan(Connecting Europa Facility).
The states general of the supply chain at LetExpo consequently have the task of outlining, responding to and urging institutions towards sustainable and efficient development of a strategic sector for the growth of trade and the economy as a whole.
For this reason, the exhibition will welcome attendance by a large number of Italian ministers. Enrico Giovannini, Minister of Infrastructure and Sustainable Mobility, will be joined by Massimo Garavaglia, Minister of Tourism, and Federico D'Incà, Minister for Relations with Parliament, Luigi Di Maio, Minister of Foreign Affairs and International Cooperation, Elena Bonetti, Minister for Equal Opportunities and the Family, and Mariastella Gerlmini, Minister for Regional Affairs and Devolution.
LetExpo will also focus on research and training, with high schools, ITS Institutes and Universities teaming up in the ALIS Academy Area, while the social world will be represented by charities and inclusion projects.
"LetExpo," explained Guido Grimaldi, President of ALIS, "is an innovative, crossways and dynamic trade fair. It will encourage discussion between public and private institutions and entrepreneurial initiatives while placing the importance of sustainability, the need for modern and more efficient infrastructures, as well as increasingly connected ports and interports, at the heart of the debate. This will not only promote the logistics chain but will also ensure that the entire Italian economy can play a central role on the global market."
"Veronafiere, together with Alis and exponents of the economy, is ready to take up this epoch-making challenge to modernize Italy, moving it towards an increasingly effective and green connection," said Maurizio Danese, President of Veronafiere. "Just as infrastructures and transport are vital in maintaining Italy's competitiveness and promoting the circulation of people, goods and services, so too is the responsibility for promoting a culture to accompany us in the transition towards sustainable mobility."
LetExpo will find in the Verona Exhibition Centre  the ideal location and partner for its growth and development," said the CEO of Veronafiere, Giovanni Mantovani. "Verona and its interport are one of the leaders in Europe as regards intermodal logistics. The city boasts an historic vocation for such traffic as the 5th province in Italy for manufacturing trade. It is also a hub for 2 of the 9 TEN-T major corridors at EU level . Furthermore, we will be able to develop new synergies with more than 500,000 operators and 14,000 companies that take part in our events every year."