Motor Bike Expo: welcome back to the motorbike show!
The roar of engines inaugurates Veronafiere's 2022 calendar of events. Motor Bike Expo – the trade fair for the world of motorbikes and bikers – is back 13-16 January. It is the most eagerly awaited event for bikers thanks to a unique, international format capable of bringing together bikes from major manufacturers and top accessory and clothing brands alongside custom and special models developed by the most famous custom bike builders.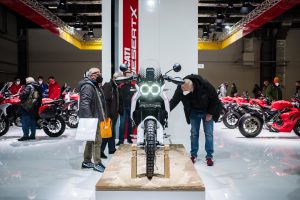 More than 600 exhibitors will display innovations and previews in as many as 8 halls, not to mention outdoor areas, for a total of more than 120,000 square meters of show area. An authentic, not to be missed get together for all bikers – because Motor Bike Expo is also sport, VIP guests, entertainment, competitions, tourism on two wheels and educational events.
Now at its 13th edition at Veronafiere, the event represents a sector that – going against the trend during the pandemic – actually grew in Italy in 2021. Confindustria data certify that the year closed with a 21.2% increase in motorcycle registrations compared to 2020, with more than 280,000 vehicles sold on the marketplace.
Maurizio Danese, President of VeronaFiere: "Motor Bike Expo, thanks to the successful partnership with the organizers, Verona City Council and the Veneto Region, reaches the milestone of 13 editions at Veronafiere. We are also ready to take up this new challenge, thanks to the experience we gained during more than 20 trade fairs and congresses managed in complete safety in 2021 thanks to our health prevention protocols, today reinforced by the mandatory requirements for the Super Green Pass and FFP2 masks."
Giovanni Mantovani, CEO of VeronaFiere: "2021 was the restart year for the entire Italian exhibition system, inaugurated precisely by the special edition of Motor Bike Expo held in June that year. And it is once again passion for the world of motorcycles that gets our calendar going in January 2022. The show has attracted significant attendance with 600 exhibitors. This means we have worked well with the team of Francesco Agnoletto and Paola Somma and that companies, operators and enthusiasts are keen to return to Verona for the number one appointment in Italy in the motorbike sector."